Skin Care Treatments & Products
Vivier SkinTx® Restore Treatment
The SkinTx® Restore Treatment is a treatment to help with hyperpigmentation, age spots, acne and aging skin. It is an effective and affordable alternative, or augmentation, to traditional laser treatments. The treatment combines a series of 2 quick and safe professional chemical resurfacing procedures, using the SkinTx® Jessner Plus TM. This is combined with an easy-to-follow at-home SkinTx® daily care system.
The SkinTx® Restore Treatment provides visible results by:
Reducing the appearance of fine lines and wrinkles
Diminishing the appearance of age spots such as sun damage, melasma or "pregnancy mask"
Helping firm and tighten the skin
Helping improve acne, enlarged pores and the appearance of acne scars
Restoring your youthful "glow"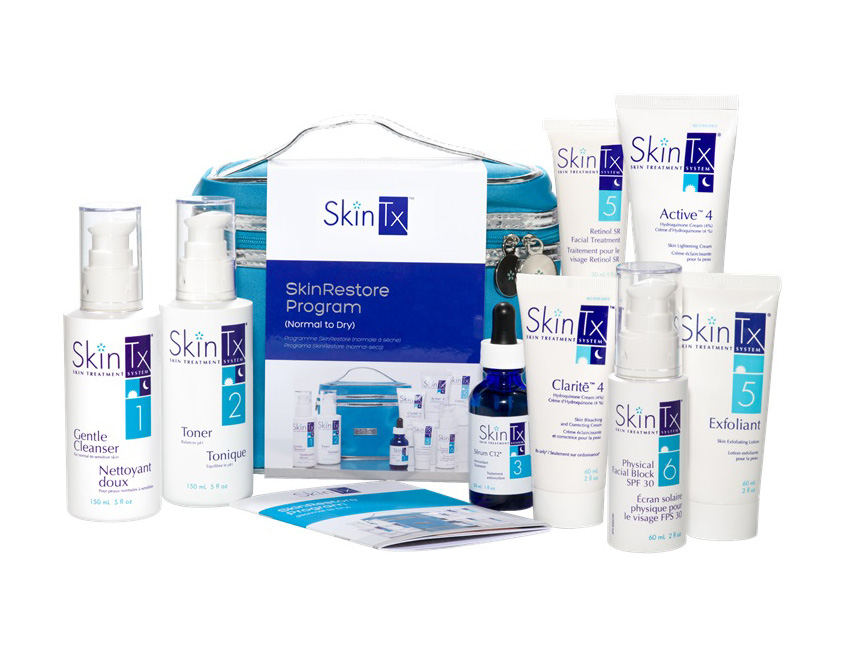 Vivier SkinTx®
Vivier SkinTx® SkinRestore Programs offer more active ingredients to provide treatment options for specific skin care concerns. Each SkinTx® SkinRestore Program is formulated using the four gold-standard anti-aging ingredients: L-ascorbic acid USP (pharmaceutical grade Vitamin C), Alpha-Hydroxy Acids, Retinol and Hydroquinone. SkinTx® offers remarkable transformations because it combines these ingredients into synergistic formulations that complement one another.
A typical SkinTx® Program contains 6 to 7 steps in the morning and 5 steps at night. Although this may seem like a lot of steps at first, SkinTx® patients typically find the regime very easy and quick to follow. Each program is available in a Starter System containing all the products in a complementary carrying case.
The Starter System lasts approximately 16 weeks, and individual products can be purchased on an as-needed basis. After 16 weeks, Dr. Kents will provide suggestions regarding your next step to maintain your results over time. Choices may include repeating a treatment regime with the appropriate SkinTx® Program, or changing to a maintenance regime with a VivierSkin® System.
VivierSkin®
VivierSkin® offers an extensive range of products that work synergistically together to deliver real results. In fact, these complementary products are all formulated using pharmaceutical standards. This focus on quality and results has allowed VivierSkin® to stand in a class of its own.
Key to the success of VivierSkin® is the combined use of gold-standard ingredients along with unique proprietary compounds exclusive to VivierSkin®. This unique combination allows VivierSkin® formulations to deliver on their promise.
VivierSkin® products include a range of pharmaceutical grade washes, scrubs, eye creams, moisturizers, and sunscreens. Products can be purchased separately, or bundled in a Skin Care System. The VivierSkin® products also provide excellent outcomes when used for maintenance of results after the completion of the Vivier SkinTx® Skin Treatment Systems.
Innovative Skincare®
Innovative Skincare® is a scientifically advanced, luxury skincare company that bridges the gap between science and beauty. They are dedicated to producing highly effective, clinically-validated skin care products that deliver dramatic physiological improvements to the skin.
The iS Clinical® line of superior-quality cleansers, treatments, moisturizers, and sun protectants are powered by the most innovative ingredients on the market, and have been a mainstay of clinically substantiated skin care for more than a decade. The addition of reparative and preventative products represents a new generation of skincare that is easily integrated into any regime, resulting in skin that is healthier, more hydrated and uniquely shielded with advanced DNA protection.


Hypotrichosis is a medical term for short or missing lashes. It is frequently seen in men and women as they approach middle age. You may choose to use lash extensions or weaves, or use mascaras that lengthen your lashes. However, there is a medical option to improve the appearance of your eyelashes.
Latisse™ is approved for the treatment of hypotrichosis of the eyelashes by making them grow longer, thicker and darker. Latisse™ is the brand name for bimatoprost, a sister medication already approved for the treatment of glaucoma known as Lumigan®. Latisse™ is believed to affect the growth (anagen) phase of the eyelash hair cycle by increasing the length of the growth phase and increasing the number of hairs along your eyelid margin.
Latisse™ is applied at bedtime by placing a drop of product on a brush (provided with the kit) and swabbing it along your lash line. A second brush is used for the other eyelash line. It begins to work gradually, and you will see a significant improvement in the length and number of your lashes by 2 months.  If Latisse™ is discontinued, your eyelashes and eyelids will return to their previous appearance over several weeks to months.
Side effects may include eye irritation and itching, redness of the eye, dry eyes, or eyelid redness.  Latisse™ may cause darkening of your eyelid skin at the lash line, which may or may not be reversible after stopping the product. Very rarely, it can increase the brown pigmentation of your iris.
You should not use Latisse™ if you are pregnant or breastfeeding, have an eye infection, or are being treated for glaucoma with eye drops, unless cleared by your treating ophthalmologist.