PRP for Hair Rejuvenation
Platelet-Rich Plasma (PRP) for Hair Loss
Hair loss is a concern for many woman and men, occurring at many different ages and during various life circumstances and conditions. Many individuals are interested in undergoing treatments to help maintain and improve the condition of their hair and scalp. Platelet-rich plasma (PRP) treatments may be an option to assist with hair growth, rejuvenation and maintenance.
Causes of Hair Loss
The most common cause of hair loss is hereditary, and is known as androgenic alopecia (AGA): male-pattern baldness and female-pattern baldness. AGA is estimated to occur in 80% of men and 50% of women throughout their lifetime. AGA generally occurs gradually and in a predicable pattern – a receding hairline and bald spots in men, and thinning hair along the crown and widening of the central part in women. There is no cure for this type of hair loss, but AGA may be managed with both aesthetic treatments and medical support.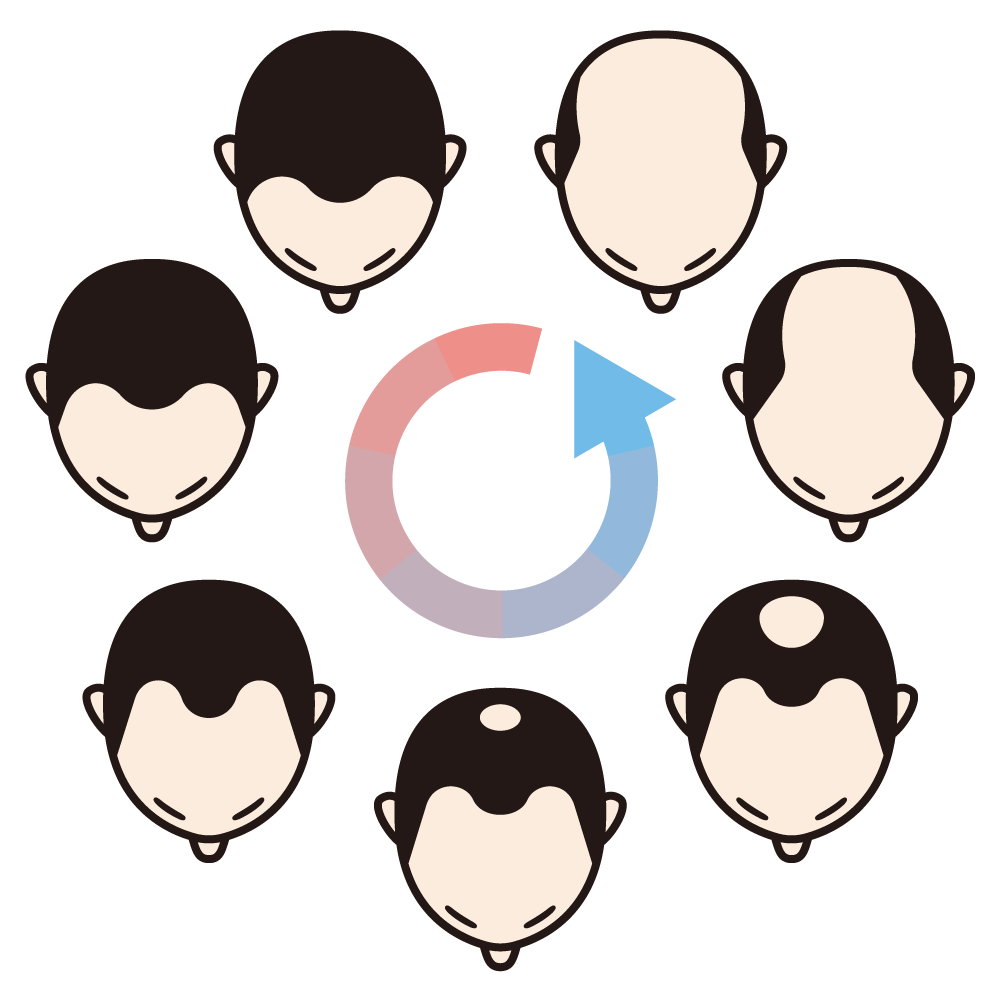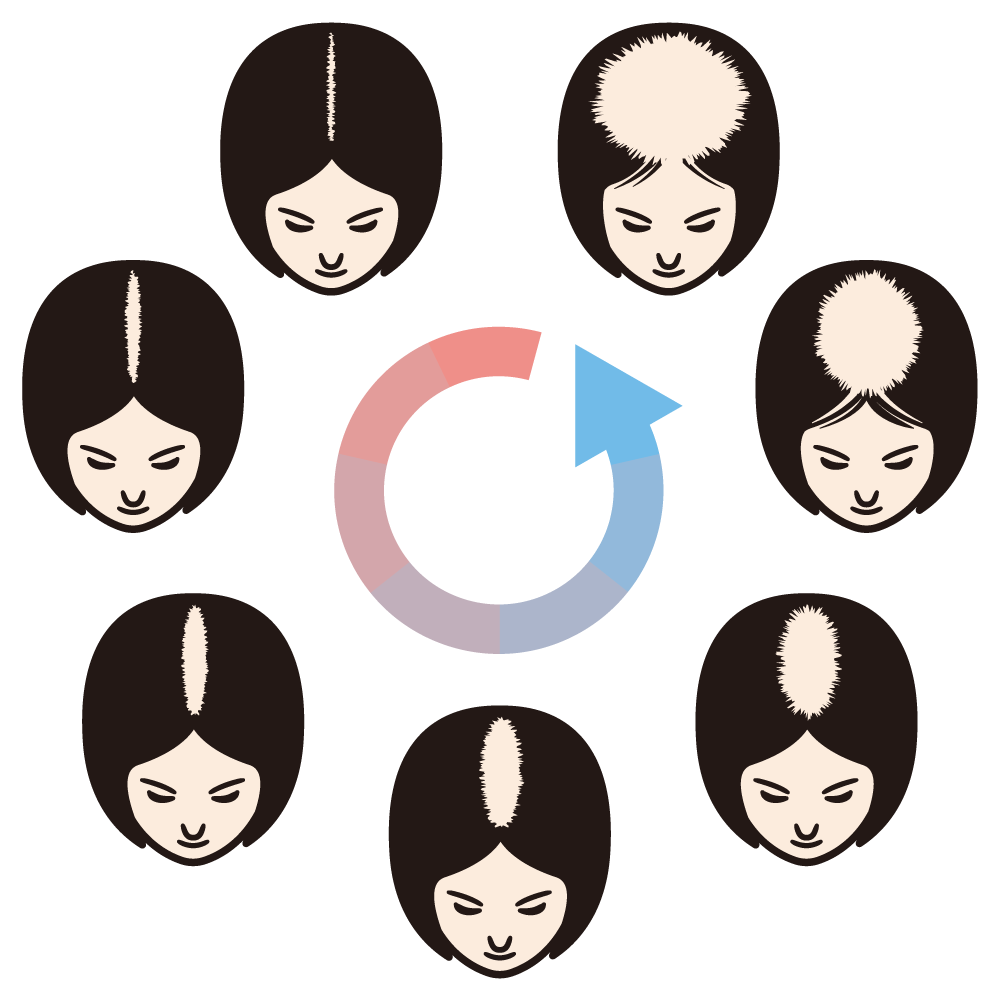 Other causes of hair loss include hormonal changes (pregnancy, childbirth, menopause, thyroid problems) and medical conditions (autoimmune conditions, infections, hair-pulling disorder), medications, stressful events (telogen effluvium), and certain hairstyles that put traction on the hairs.
PRP treatments are best for those experiencing AGA hair loss. A large body of scientific evidence supports its use in AGA.
Hair Growth Cycle
All hairs on the scalp and body grow according to a continuous cycle, which is made up of 4 phases:
Growth (Anagen)
Transition (Catagen)
Resting (Telogen)
Shedding (Exogen)
Around 20-30% of hair is in transition or resting, while the rest are actively growing. For healthy hair, this growth phase usually lasts about 3-6 years. However, this phase is much shorter in unhealthy hair, which will result in less hair growth and more hair loss.
How Does PRP for Hair Rejuvenation Work
PRP is concentrated with platelets from your own blood. Platelets are a naturally occurring substance in your blood that play an essential role in clotting. As a concentrated source of autologous platelets, PRP contains several growth factors and other cytokines that stimulate healing of bone and soft tissue. PRP contains vital growth factors, including Platelet-Derived Growth Factor (PDGF), Vascular Endothelial Growth Factor (VEGF), and Fibroblast Growth Factor (FGF). These growth factors stimulate the development of new hair follicles, as well as dramatically improve the condition and health of existing hair follicles.
There is a large body of scientific evidence that suggests that the high concentration of platelets in PRP supply growth factors to promote tissue regeneration, wound healing, skin rejuvenation and hair loss. PRP is effective in treating hair loss by:
increasing the blood supply to the hair follicle
increasing hair count
Increasing hair thickness
Increasing the frequency of active growth phases
Women can expect to regain most of their hair by undergoing PRP hair treatments, while men can expect an improvement of 20-30% of hair density and appearance.
Contraindications for PRP for Hair Rejuvenation
As PRP works on existing hair follicles, it not will not work on individuals who's hair follicles are no longer present (those with scarring hair conditions, such as lupus, or if advanced androgenic hair loss).
PRP treatments should not be performed if you have:
Current infections
Skin diseases such as lupus or porphyria
Current cancer
Current chemotherapy treatments
Severe metabolic or systemic disorders
Liver disease
Abnormal platelet function (blood disorders)
Anticoagulation therapy
Current use of corticosteroids (Steroid injections) in the scalp in the last month
Pregnancy and Breastfeeding
What to Expect When Undergoing PRP for Hair Rejuvenation
All patients interested in undergoing PRP treatments will have a complementary consultation with Dr. Kents (either virtually or in person) prior to your treatment, to determine whether PRP is safe and appropriate for your individual needs.
On the day of the PRP treatments, 1 or 2 vials of blood are taken from your arm, similar to common blood tests. The blood is then spun in a centrifuge to separate the red blood cells and plasma. The process concentrates the platelet count to 5 times normal. This PRP is then injected into the scalp using a mesotherapy injection device. The use of this advanced injection device allows for relatively painless treatments that DO NOT require topical anesthetic.
The procedure itself takes about 30 minutes, and most people can resume normal activities immediately afterwards.
Patients may experience minimal tenderness and redness after PRP treatment.
Results are most noticeable after six (6) months, but can be visible at three weeks and continue to improve gradually over the next three to six months.
To start the hair rejuvenation process, we recommend four (4) PRP treatments, each 1 month apart. Maintenance treatments should be performed at least twice a year, or even 3-4 times a year if the hair loss is severe in a young individual.
Hair loss is continuous throughout life for some people. However, current data shows that PRP results may last 18-24 months.
Additional therapies for Hair Loss
As PRP treatments do not target the hormonal component of AGA, patients will often benefit from a comprehensive treatment plan to manage their alopecia. This may include medications such as Minoxidil, Finasteride, and Spironolactone, which can be discussed with Dr. Kents at your complementary consultation.
Preparation for PRP for Hair Rejuvenation
Before the PRP treatment:
Avoid heavy exercise the day before your treatment
Increase your fluid intake the day before your treatment: drink 2 glasses of water at breakfast, lunch and dinner, as well as the morning of your treatment
Be sure to eat breakfast or lunch the day of your treatment
You can wash your hair the morning of the session, or at least the day before
You may colour your hair up to 3 days before treatment
Stop the following medications and supplements AT LEAST 1 WEEK prior to treatment:

Vitamin E, Vitamin A, Gingko, Garlic, Flax, Cold liver oil, niacin, essential fatty acids
Multivitamins
Anti-inflammatories (Advil, Motrin, Ibuprofen, naproxen, voltaren, etc).
* you may take acetaminophen for pain
Avoid alcohol and cigarettes 3 DAYS prior to treatment.
After PRP treatment:
Avoid exercise the day of treatment, but can resume the following day
You can wash your hair the day AFTER treatment
You can colour your hair 3 days after treatment
No hair products such as hair sprays or mousse for 24 hours
Limit sun exposure to the treated area for 2 days. It is OK to wear a hat
Avoid the following medications and supplements for AT LEAST 1 WEEK after treatment:

Vitamin E, Vitamin A, Gingko, Garlic, Flax, Cold liver oil, niacin, essential fatty acids
Multivitamins
Anti-inflammatories (Advil, Motrin, Ibuprofen, naproxen, voltaren, etc).
* you may take acetaminophen for pain
Avoid alcohol and smoking for 3 DAYS after treatment.
BEFORE AND AFTER